BIOGRAPHY
The painters may use, in the retina and in the brain, an arbitrarily subjective range of different photographic lenses to begin from the sixteen millimeters, that implies distortions in close-ups like those of the expressionists, to the euphoric two hundred or also five hundred millimeters telephoto lens, passing through the thirty five, the forty and the fifty millimeters, this last appanage of surrealists and hyperrealists.
Serge Gainsbourg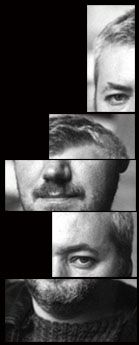 Denni Lugli lives and works in Modena, Italy.
Born in October 1955, he starts painting in early '70s.
Between 1976 and 1981 he holds two personal exhibitions and participate to various collectives.
In the same years he begins to be interested in photography.
He collaborated with the Communal Theatre of Modena in various scenographic projects.
In 1980 he transposes the short novel The Dead Man by G. Bataille in a photographic novel.
In 1983-84 he produces some musical videoclips one of which, Scratchkiller, is introduced as "Italian answer to Michael Jackson's Thriller" in pop show "MISTER FANTASY" produced by national TV network RAI.
In the 1986-87 he is assistant of Sergio Stivaletti in Rome creating special effects for horror films such as Demons 2 (L. Bava), Spettri (M. Avallone), Opera (D. Argento).
In 1990 he creates the special effects for a movie called Videocrash featuring actor Alessandro Gassman and movie critic Enrico Ghezzi.
He is photographer from 1987 to 1991 for Hiara Records doing several photos, covers and posters for rock groups.
Denni directed a horror-erotic video, Sexplosion, that got an U.S.A. distribution.
He uses the acquired experiences in the field of plastic resins and casts in order to create series of hyperrealistic sculptures.
He exposed paintings, photographs and sculptures in '92 and '94 editions of "EROTICA" art convention in Bologna.
Marked as "unreliable" by local art critics and gallery directors because of his several areas of interests, Denni Lugli answers to them finding new and original spaces for his works: in 1995 he holds an exhibition in a lawyer's office, and another exhibition in 1997 takes place in a movie theatre, introducted on the catalogue by a dentist surgeon.
Passionate experimenter of new techniques, Denni modified cameras and constructed apparatuses in order to obtain particular types of images such as three-dimensional dia and Kirlian photographs.
In number 61 BLUE erotic magazine has dedicated a wide article to his most recent production.
He began a long-time collaboration with erotic cartoonist Roberto Baldazzini in late '90's with a series of portfolio titled For Your Eyes Only consisting in drawings and photos, published by ART CORE Edizioni.
Denni currently works, with fetish cartoonist Franco Saudelli and Baldazzini, on a book-sized magazine project called B-Bizarre which will be edited -near the end of 2000- by Glittering Images publisher.
Between 1996 and 2003 he created and hosted CINEMA AMBRA website under the Capitan Trash nickname, and wrote under the same alias on the celebrated magazine-book CUBE.
Denni's personal page on DISCOGS.
Excerpt from "Disegnare l'Erotismo", part of the EROTIKA tv series directed by Alberto D'Onofrio. Denny is working with Roberto Baldazzini and the model Gisy.
For information, comments, contacts: